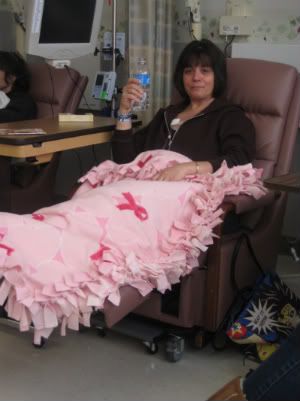 Mom drinking her 2 liters of water for the day
Carly and Aunt B (Joanne's sister) here... we are filling in for the patient. Well the first round of chemo went smoothly... one down, only fifteen more to go! Mom knew everyone would be checking the blog and wanted to keep you all updated but is feeling a little "under the weather" right now. She doesn't feel sick and she's handling everything really well, she's just a little tired and "spacey" from all the medication. Me, Aunt B and Jess all got to sit with her while they were administering the chemo. We kept her busy and her mind off things. All the nurses were very nice and helpful, they even gave us free swag!!! We got really cool pink breast cancer bracelets, pencils, pins and magnets for our cars. Mom made sure to get enough pins if anyone else would like one. We got a laugh out of her when we made her try on the silly pink hat in the second picture. They have a pretty nice set up at the chemo place... we felt like we were on a first class flight! Mom got to sit in a comfy recliner, there was a TV with internet and movies, and the nice nurse Lisa even came around with a basket of cookies and crackers. We asked for a mango margarita, but only had a chemo cocktail to offer us LoL. Jackie Craite was quite the celebrity today... everyone just LOVED the awesome pink blanket she made for mom (which she is wearing in the picture.) She got tons of comments on how CUTE it was, they all just loved it. So thank you Craite family!!! Tomorrow we are going to a wig salon that specializes in helping chemo patients cope with hair loss. We will make sure to take pictures and post them on here. Well that's it for now, please keep the comments coming, they really lift her spirits and keep her smiling.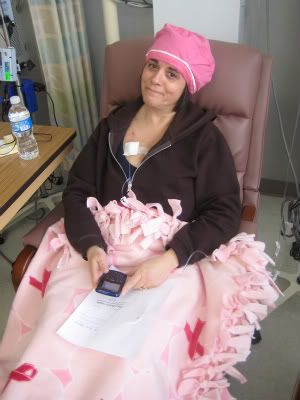 Mom in the silly pink hat texting Rachel.